Clarity SL – breakthrough in orthodontics!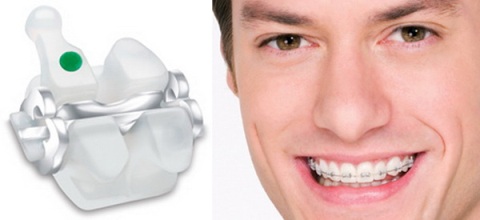 Only today, ceramic self-ligating brackets – with the strength of steel. This strength is provided by embedded into the metal bracket slot. Ceramic braces Clarity SL consist of tiny crystals, called granules. The smaller size of these granules, the greater the strength of the ceramic material. However, increasing the strength of the material, decreases the level of its transparency. However, the firm «3M Unitek» patented technology application materials with aluminum oxide in their brand stamps – Braces Clarity and Clarity SL. And because of this, you have the opportunity to align the teeth with the relative transparency of the material and high strength. Material strength alumina brackets allow manufacture smaller and smoother shape than standard ceramic, providing you comfort during treatment.
Another advantage is, that the brackets at the bottom have a patented hub that provides a secure fit to the teeth and safe removal. It is safe to say that this system combines all the best from the passive self-ligation, design and aesthetics braces Clarity – is a guarantee of excellent results!

• Excellent aesthetics during treatment
• Precise positioning bracket
• The ability to increase the intervals between visits
• Ability to accelerate the process of orthodontic treatment



• Ability to reduce the time of the visit
• Effective closing gaps
• Reliable fixation to the teeth
• Easy removal of brackets


• Comfort during entire period of treatment, due to the design of the bracket
• Improved hygiene is provided, due to the absence of elastic ligatures, which can trigger the appearance of tartar or caries
• Save your time, thanks to the open slot bracket (quickly and easily change the arc at the reception)
To Main
To Top