Damon Clear – braces of the new generation!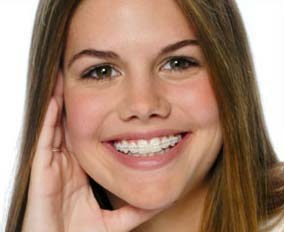 Damon Clear – is without ligating sapphire braces new generation. Fully transparent passive self-ligating "braces invisible" with low friction and low arc forces more effectively moves the teeth than traditional ceramic and sapphire brackets – (especially suitable for patients who have problems with periodontitis). The results of treatment you usually see in a couple of months. And the treatment process will be held comfortably, quickly and efficiently.
Thanks to the technology of passive self-ligation, in most cases it is possible to achieve excellent aesthetic results without extraction and the use of additional orthodontic appliances (facial arches, screws). 20% decrease during the correction of malocclusion, and the intervals between visits to the doctor to activate the system – are extended.
The company «ORMCO» patented laser etching base bracket that provides a secure fit and comfortable removal of braces. And an innovative mechanism for opening and closing the lock transparent SpinTek in the bracket, provides a quick and comfortable change of arches, significantly reducing the time spent in the clinic.
Bracket is made from durable polycrystalline alumina (PCA), this material is resistant to discoloration. A smoothed contours provide you with fast adaptation and comfort.
To Main
To Top